Healthwatch Warwickshire - our work plan for 2022
In this report, you can read about what we have planned for 2022.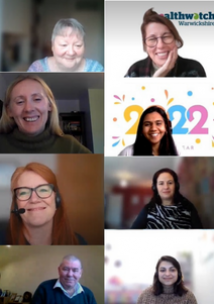 Happy New Year from all of us at Healthwatch Warwickshire!
We are excited to get stuck into another year, whatever it may bring. The pandemic has changed the way we work and live, and we find ourselves constantly adapting to the 'new normal'. However, this has not changed our eagerness and commitment to seeing health and care services improve for the people of Warwickshire.  
Our Objectives
Our main aims for the year ahead are:
To find out the experiences of people needing or using health and social care services.
To seek the views of those who are not always heard and reduce the barriers that they face in accessing health and care services.
To act on what we hear to improve local health and care policy and services.
To ensure that the resources that we receive are used for the greatest impact.
Our Priorities
Each year, Healthwatch Warwickshire has a strategy away day - in which staff, Board members, and volunteers meet up to discuss our work. We consider the feedback we have been hearing from people and in meetings, and collectively decide what areas of work we should prioritise for the next working year. 
The priority areas of work that were identified for this year were:
GP access 
Learning Disabilities 
Integrated Care Systems 
...but we also plan to do so much more!
To read more about our objectives and priorities, including other planned work with carers, people experiencing deafness and hearing loss, the LGBT+ community, people experiencing an eating disorder; and other topics, click on the pink 'Download' button below.