Healthwatch Warwickshire Annual Report 2018-2019
In this report you will learn more about the work we did in 2018-2019. all of which is important to help shape your services. We highlight one important development, our Right to Access Project.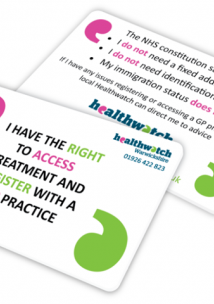 Tackling barriers to healthcare in the homeless community
Many people told us that services don't truly understand the challenges for people who do not have a home. People found it difficult to access support because they lacked a permanent address, phone number or identification. NHS guidelines say that GP services cannot refuse to register someone because they don't have proof of address. To raise awareness of this issue, we launched our Rights to Access project (RAP) on 10th December 2018 - National Human Rights Day.