Clifton Court Nursing Home Enter and View Report
Read the report from our visit to Clifton Court Nursing Home in Rugby.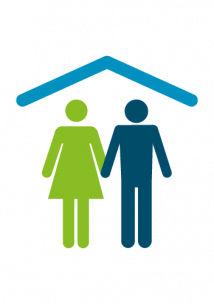 Approach used
This was an unannounced visit, made up of four members from Healthwatch who worked as one team.
Summary of Findings
Clifton Court Nursing Home has 39 residents at present, but can accommodate a maximum of 40. There is one double room available and all rooms are equipped with an ensuite toilet and washbasin facilities. Several rooms do have additional ensuite bathroom. There is also a communal walk in wet room /shower room available on the second floor.
The population of the home is made up of clients aged between 70-98, with one gentleman aged 63. Some of the residents have a diagnosis of dementia, and some are receiving end of life care.
There are three lounges, one on the second floor and two on the ground floor. There is a kitchen where two cooks are employed, preparing and cooking fresh meals on site everyday. Special diets are catered for where necessary. There is a functional treatment room on site for procedures and wound management if required.
The home provides dentistry, chiropody and domiciliary Optician services. Hair dressing salon is on site. At the time of our visit 3 residents were bedridden; there is a tissue viability nurse available to be called upon.
There is a new build in progress on the same site to accommodate 25 patients with a diagnosis of dementia, it is hoped this build will be complete by the end of 2017.
The staffing includes; 6 Care staff, 2 nurses on day shift. 3 care staff and 1 nurse on Night shift. There are specific day and night staff. The manager was also present on the day of visit. Staff are permanent with very occasional bank staff used. Staff turnover is low.
The maintenance team is made up of 4-5 people who are based at the site but available at Crosscrown homes when needed. There are also daily cleaners who shift patterns generally run on a 7am-3pm basis. These cleaners are specific to the care home. There is a laundry on site operating Monday to Friday. The cleaning team are based permanently at the home.
Clifton Court provides comprehensive staff training which is undertaken by outside agencies, areas include, Health and Safety, Moving and Handling, Equalities and Diversity. They are trained in Phlebotomy. The nurses are all RGN. The care staff undertake NVQ training, most have attained level 2 with one at level 5.
All residents are registered with a local GP surgery, if not already registered will be so by MQMP( Market Quarter Medical Practice- Rugby). The GP will assess all new residents at point of entry. Residents with a diagnosis of Dementia are assessed twice per year.
There are two small dogs and a cat at the home, these are enjoyed by the residents, the dogs belong to the manager and the cat belonged to a previous resident. There is "Pets not Pills" policy, this being a conscious strategy.
Recommendations
The cleanliness and decoration of the home was of a very high standard, our findings are really very minor but would benefit from attention.
That the fire refuge by the staircase on the second floor is cleared of stationary wheelchairs so that it is no longer blocked and can be used in the event of an emergency.
The radiator cover in room 26 was loose and requires firming up. (We visited room 26 as it had no occupancy at the time of the visit) It may be worth checking the other radiator covers in the other rooms where we did not visit.
The many armed Chandeliers were all very clean with the exception of those in the dining room, where cobwebs were evident.
There was a non- fitting plug in the ground floor communal bathroom opposite the lift.
Extractor fans in the second floor washroom and ground floor communal bathrooms are in need of a wipe down.