Celebrating our volunteers
We would like to thank all our volunteers for everything they have contributed to Healthwatch Warwickshire.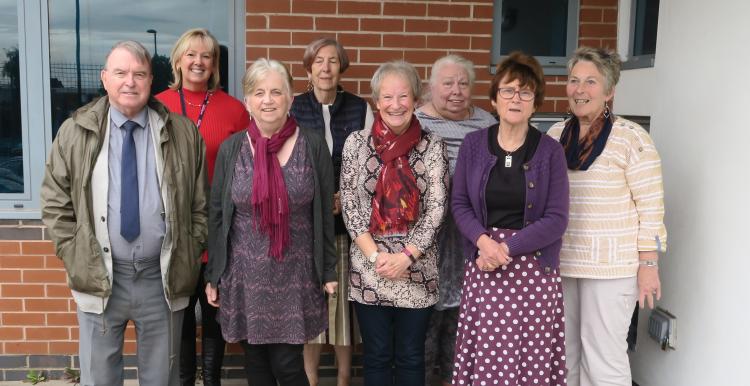 Thank you to our volunteers for staying with us through all of the challenges we have faced over the past couple of years. They are the true Titans of Healthwatch Warwickshire.
Our volunteers have continued to help us in delivering what we are here to do, listening and acting on feedback from local people on issues around health and care. It is always a pleasure and a privilege to work alongside our skilled volunteers. Each person makes a valuable contribution from representing volunteers at Board level to helping ring around local dentists to investigate whether or not local people can see a dentist when they need to. Our volunteers are also our eyes and ears on what is happening in their local area, a much valued part of being part of the Healthwatch team.
I have really appreciated the passion and expertise of our volunteers while working on the GP Websites Mystery Shop. The group has shown dedication to helping the people of Warwickshire by giving their time to visiting GP websites, analysing the content and making suggestions as to how GP websites can best support their patients.
We are so grateful to our Board of Directors for the expertise, guidance and leadership that they provide for us.
Thank you to all the volunteers who made calls to every Dental Practice across Warwickshire to find out if they were taking on new NHS patients or offering emergency treatment. It helped us to see where there are inconsistencies across Warwickshire and we shared the findings with Healthwatch England and the Coventry and Warwickshire Clinical Commissioning Group to inform them of the provision available locally.
Thank you to our volunteer who carried out research on equalities and reasonable adjustments.
Thank you to our volunteer, who took part in our Carer's project for NHS England by interviewing her friend on her experience of her partner being discharged from hospital.
I really enjoyed working with our volunteers at the deaf awareness event. Their support and contribution was invaluable, as always. All of our volunteers are an integral part of the Healthwatch Team.
What do our volunteers say about us? 
I have been a volunteer with other organisations and Healthwatch Warwickshire really looks after their volunteers. We are certainly valued, and our contributions are an extremely important part of Healthwatch Warwickshire. Volunteers needs and requirements are always considered, and the training given is excellent and interesting! I feel that I am part of the Healthwatch team and have enjoyed the projects that I have been involved in while at the same time knowing that the projects will be helpful for the people of Warwickshire.
What's particularly nice, is that sometimes I find I'm surprised by the team's actions to make us feel valued and that's very special and lovely. Also, I find the work is wonderfully organised, even if I am not, and I'm always able to feel I've been supported in doing that work.
I took part in the recruitment process for new staff. I was made to feel integral and, having a volunteer on the interview panel makes it clear to new staff that volunteers are a major part of the organisation, This sends out the right message out to new starters.
After the event, it felt good to be included in the de-brief
We have all have done a lot of volunteering over the years and Healthwatch Warwickshire is a place where we feel really valued. The team are so highly skilled.
Celebrating our volunteers at a walk during Volunteers Week 2022.