How have Adults with Learning Disabilities and Autism been coping during the pandemic?
We want the voices of Autistic and Learning Disabled adults to be heard and their experiences to be understood.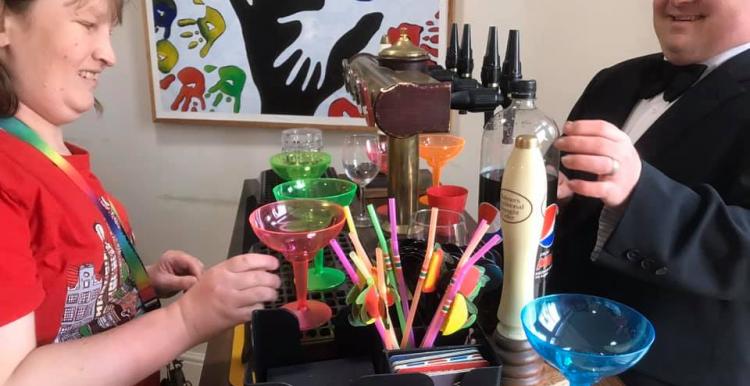 What you have told us is working well ...
Picture courtesy of New Directions Rugby.
Healthwatch Warwickshire are calling independent living providers to ask how people have been coping during the pandemic and whether they have any particular concerns about coming out of lockdown. 
We will be sharing some of the things that have been going well and finding out what could be done to make things better.
You can also leave your feedback with us (anonymously if you wish) by answering our short questionnaire: 
The Ramsden Centre runs two support services for clients with complex needs. Most clients have learning disabilities, sometimes physical difficulties and often autism as well. There are centres at Nuneaton and Rugby. Pre -Covid the Nuneaton Centre supported 21 individuals each day and the Rugby Centre supported 15 individuals each day. Most clients attended for 5 days a week. Both centres have remained open during the periods of Covid restrictions. However, both buildings used were reassessed at the start of the Covid restrictions and it was agreed that the Nuneaton Centre could cater for 12 individuals and the Rugby Centre for 9. The 2-day services had to offer the service in a very different way over the 5 days. Some people were supported from home whilst others had to reduce the amount of service available so we could meet everyone's needs. Clients attending the centres range for 19 year olds to those in their 50s though there is no official upper age limit. Contact with the Council has been excellent throughout - initially there were Teams meetings three times a week - this has now been reduced to fortnightly. Support has been excellent and items such as PPE readily available. It was very challenging but has been of a great benefit to the people we support and their families in what was already a very difficult time for everyone.
Clients are really looking forward to all meeting up again face to face. It will now take some time to understand what the real impact the whole lockdown situation has been on people's skills and emotional and mental wellbeing. Organisations like ours will be looking at that and seeing what can be done to remediate these problems.
As day centres were closed friendship" circles" were formed so that people could maintain contact with each other and their friends. This was done digitally and also by writing letters and cards to each other. Packs of paper ,cards and pens were provided and this enabled friendships and relationships to be continued in a different way while day centres were closed. Digital connectivity has been a key to connecting people and the organisation has been working with the Let's Get Digital Project. This has meant that 30 tablets have been given out to clients with the data access provided.It has been a very successful project.
We have a private Facebook group only accessed by everyone we support and all of our staff. Through this we have been able to share some wonderful moments with each other that have given us great motivation over the past year. Where we have had permission given from the people we support, we have also been able to share these publicly on social media and through our website. Some we even entered into a national competition for photos reflecting on how people coped through the pandemic.
The people we support are going out, like everyone else, there are mixed feelings about the reopening of retail and services with some people hardly able to wait for the reopening of hairdressers, shops, gyms and pubs whilst others have been more anxious about key dates.
Priority was given to establishing social bubbles and also to producing information in an easy read format .For the clients most in need arrangements were made for walks in local parks walk with or to have driveway meetings. Services are being opened up again very slowly. The allotment has been open for a few weeks and this has been very successful.
[With fewer trips out] a greater community spirit has been generated. The team has focused on in-house activities which in some cases have been enjoyed more. We came to realise that not everyone wanted to go out every day, and that some people are happier with the slower pace of life.
The majority of residents have family members who they are in close touch with.  The residents form a bubble with their family members and as such are able to go out together.