Healthwatch survey – initial findings of patient experiences during COVID-19
Initial findings of a survey about people's experiences of health and social care during the Coronavirus pandemic.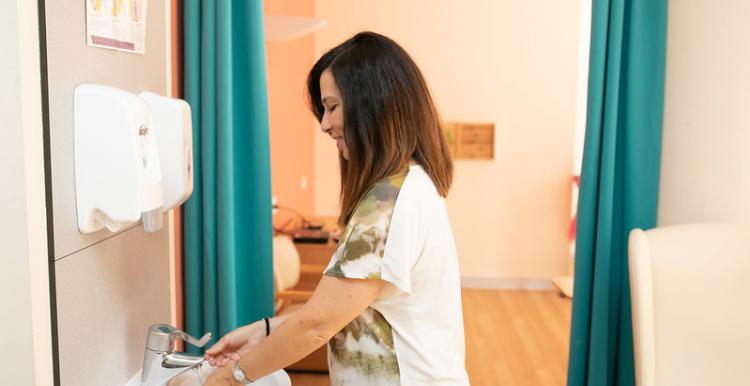 In May 2020 Healthwatch Warwickshire, in collaboration with Healthwatch Coventry, launched a survey about people's experiences of health and social care during the Coronavirus pandemic. The survey is now closed but we would like to share some of the initial findings. A full report will be published as soon as the results have been analysed.
In total we received 808 responses in the month of May.
Here is a summary of what we found in the first month of the survey:
Overall people found it easy to access information that they required to keep themselves and loved ones safe during the outbreak of the pandemic. The top three things people that found most difficult to get information about were:
Changes to healthcare services that I usually access

Help for people that do not use the internet

Looking after your mental health
In the latter half of the month, it was noticeable that people found it more difficult to access information on what to do if you are categorised as high risk.
Ten percent of respondents told us that they, or a person that they cared for, had additional communication needs. Of that 10%, half said that they would have liked information in another format, for example: British Sign Language, Braille, Audio, large print, easy to read, or they would have liked the information given in another language.
Throughout May, almost half of respondents told us that they had experienced changes to the way in which they received their healthcare. Most of those changes related to GP, Pharmacy and Hospital Outpatients. Some examples of concerns raised:
[I] had no preparation for birth now causing anxiety. Birth expectations class could have been done virtually via zoom/ facetime etc.
Because I could not access dental treatment my treatment for osteoporosis had to be cancelled.
 We also received several compliments about services during the pandemic:
Access to Doctors now via Internet and phone which actually is a far better method.
My wife was in pain. Phoned 111 who referred us to GP. We are isolated out of area and our normal home is in Leamington. The [GP] phoned back very quickly and a video examination diagnosed shingles. Within half an hour I had collected the prescription and started treatment. Excellent service.
Respondents who told us that they had accessed the NHS (including 111) for COVID-19 told us that the support they had received was good. GPs and Hospitals received the bulk of the positive feedback, and views on accessing 111 were primarily negative.
My husband has been in ICU at Warwick hospital on life support as he has Covid-19 and they have been brilliant.
Good at GP, 999, ambulance/paramedics and Hospital level. 111 service not good as did not answer call after 35 mins wait.
We only received a small amount of feedback in relation to social care services, which was of concern. We addressed this with the distribution of a paper copy of the survey.
Online, people told us that they had concerns about loss of social interaction and the deterioration of conditions due to isolation or cancellation of services, such as group therapy. However there has been a good offering of online sessions from the likes of Grapevine, Turning Point and Escape Arts.
Mental Health and Wellbeing
Most respondents said that their mental health and wellbeing had been affected, with people telling us that they are feeling stressed, anxious, isolated, and worried. When asked about accessing support, contact with friends and family was key for many.
What support could possibly help? Zombie days with medication? A phone chat with someone who can change nothing about my life? Another patronising letter telling me to play sudoku or do a jigsaw?
Talking to family and friends via video calls has been of great relief to me. I have not felt the need to seek help from professionals.
The findings above are representative of what we received in the month of May.
If you would like to see this information in an alternative version, please get in touch with us.
If you have any experiences – good or bad, that you would like to share with us please contact us today:
01926 422823
info@healthwatchwarwickshire.co.uk
Or you can write to us at:
FREEPOST Healthwatch Warwickshire